As the cooler months are approaching, so are those high utility bills—so you thought. We've put together some tips to help you save money when it comes to your home's temperature control.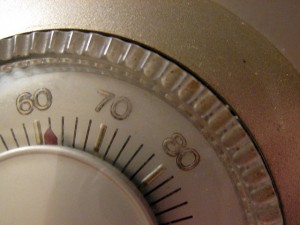 Consider Changing Your Thermostat
Mechanical Thermostats are inexpensive and are made with a bimetallic strip or vapor-filled bellows. Even though they are super easy to install, many mechanical thermostats are very slow to react to your home's environment—resulting in inefficiency for your heating and cooling system. If you have a mechanical thermostat in your home, consider switching over to an electronic one. Electronic thermostats are efficient, programmable and can save you money.
Electronic Thermostats provide more accurate temperature readings as they constantly measuring surroundings. Programmable thermostats allow you to get the most out of your environment. The simplest type of the thermostat will allow you to control day and night settings. While more advanced devices allow you to program for times and days of the week!
Get the Most Savings with Temperature Adjustments
Inadvertently, setting your thermostat to a lower setting when it's cool out, or a higher temp when it's warm, will save you a money. The best thing about a programmable thermostat is you don't have to rely on your memory (with that busy schedule of yours) to make the adjustments.  You can save anywhere from 5%-20% depending on where you live and your temperature settings.
Brrr…It's Chilly Out There!
During the day, set your temperature between 68-70 degrees Fahrenheit. If you find it to be cooler than you'd like…bundle up! Wearing a sweatshirt and snuggling in a blanket equals more money in your pocket. During the nighttime, you can get away with turning your thermostat down to 60 degrees Fahrenheit (no need to go any cooler). Use your same nighttime setting for when you are away at work, vacation and etc., to reduce the costs.
Resist the Urge to Crank Your Theromostat
The speed at which your home heats or cools depends entirely on your system, not your thermostat. Turning up your heat at 90 degrees Fahrenheit only makes your system work harder..not faster. The same goes with turning your device way down. Don't waste your hard earned cash, set the temperature you're comfortable at for best results.
Photo Source: C Jill Reed | Flickr