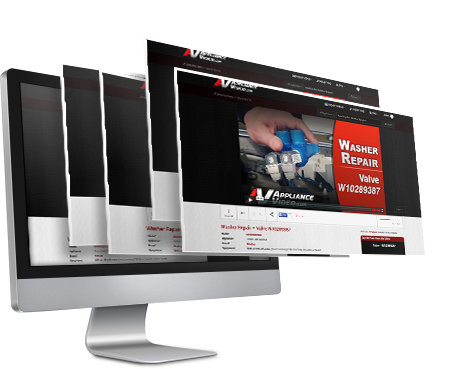 The Nation's #1 Leader in Appliance Repair Resources
For Service Companies & Technicians
Become a part of our team today with a Premium Membership. With the continuous and fast-paced advances in the industry, don't miss your chance to have the upper edge in the field.
As a continually growing resource for you or your service company, we are changing how things are done for the better.
Not Sure How to Repair It?

Don't let your reputation suffer. Watch the Premium videos you need right from your truck on any device with WI-FI connectivity. Better yet? Your customers won't doubt your expertise or service company. Establish rapport and a reputation that is top-notch.

Get the Answers You Want Without the Wait

Don't be stuck "on-hold" in a customer's home with one of those tech-lines. Our Premium Videos help you find the answers you need at the click of a button.

No More Second-Guessing

Isn't it embarrassing when a repair doesn't go your way? With our high-quality Premium Videos, you'll have the power to do it right the first time.
Don't Get Left Behind

As appliances become more complex, it's absolutely crucial to stay on top of these technologically-advanced repairs. Our Memberships keep you updated in the industry.

Repairs Can be Tough & We're Here to Help

Our Premium videos walk you through challenging breakdowns, show you where issues occur, and point out problem areas in a specific appliance. With a Premium Membership, you'll have the videos you need for a successful repair.

Find the Repair Help You Need

With discounted access to on-demand repair help, you can find help on the newest and rarest appliances on the market today.
+ Plus

a New Batch of Videos on a regular basis!
Friendly Training & Reminders

Our videos are great training material for new techs to review and study. Senior gurus have the tools they need for a quick brush-up on uncommon repairs. Become a Premium Member and stay current on the newest appliances in the industry.

Be the Expert You Are

There's nothing worse than repairing an appliance you've only seen once. Gain the confidence you need to establish customer satisfaction and professional appeal. You will have 24/7 access to Premium content, allowing you to view any video you want anytime.

Save Money

Between expensive travel, training, and webinars, a Premium Membership saves you thousands of dollars. Help decrease your callbacks with on-the-spot training right here and now.
You Don't Have Time to Waste

The newest appliances on the market are built with a ton of features that are complicated and time-intensive. Become a Premium Member for an exclusive first-hand viewing experience of tearing those appliances down before they hit the showroom floor.

Experienced Technicians

Our videos have been produced, reviewed, and tested by our factory certified technicians with over 30 years of infield experience.

We're More Than Just the Basic Brands

Our Premium Videos are one-of-a-kind. Not only do we include the basic brands you're used to seeing, our team produces both old and new appliances, odd brands, and the likes. You'll have the upper-hand in the industry.
Our Pricing is Easy | Just $39.99 A Month
Or Get An Annual Membership for $399.99 & Save $79.89
To rent an individual repair, please visit the specific repair page.
.
Monthly | Premium Membership
Unlimited Access to over 5,900 videos
Request new repairs and appliances
Receive an Exclusive Appliance Video Set regularly
Detailed step-by-step instructions break down complex repairs
Yearly Premium Membership
( Save $79.89 compared to Monthly)
Unlimited Access to over 5,900 videos
Request new repairs and appliances
Receive an Exclusive Appliance Video Set regularly
Detailed step-by-step instructions break down complex repairs