As the summer months are here, it's important to properly maintain your window air conditioner so you are able to enjoy a nice cool home or apartment. Just like your major appliances in your home, your window air conditioner equally requires the same amount of care for proper efficiency. Be sure you perform an in-depth maintenance regime for your window A/C annually. Listed below are a few tips that we have put together that are basic maintenance necessities to optimize your window air conditioner.
Before you perform the following tasks, remember to unplug your window air conditioner from any power source.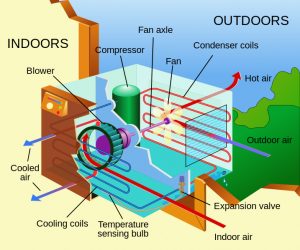 Keep Your Filtration System Sparkly Clean
The most important thing you can do to keep your current window unit working properly is to clean the filter screen on a consistent basis—based on your manual's handbook. Remove the front part of the grill with a sharp flat tool and pull out the mesh filter. Then, wash the filter along with the grill in a warm, soapy water mixture with bleach to eradicate any mildew, dust or debris. Make sure your filter and grill are completely dry before reinstalling—usually 24 hours will do. If you find your filter is damaged in any way, make sure to purchase a new one that is made for your air conditioner's model number.
Clear Your Coils From Clogging Debris
Excess dust and debris gets in the way of air flow, causing less cool air to run through. You'll come across coils underneath the grill or filtration system from your window air conditioner. To keep your current window A/C long-lasting, you will need to clear and remove any dirt, debris and dust from your system. Simply use a shop-vac or vacuum with a scrub brush attachment and clean your coils completely. Apply the same process to the coils at the rear of your A/C system. Clear off all tough foreign matter with a synthetic scrub brush.
Straighten Those Bent Fins
Bent fins make your unit less efficient by decreasing your air conditioner's heat exchange. It's a simple and easy afternoon project to straighten out the fins. Buy a fin comb that has multiple-sized teeth; you can find them at your local hardware store or internet ranging from $10-$20. Match the correct sized teeth to your window air conditioner and run the comb through to straighten out all bent or warped fins.
Photo Credit: Pbroks13, via Wikimedia Commons